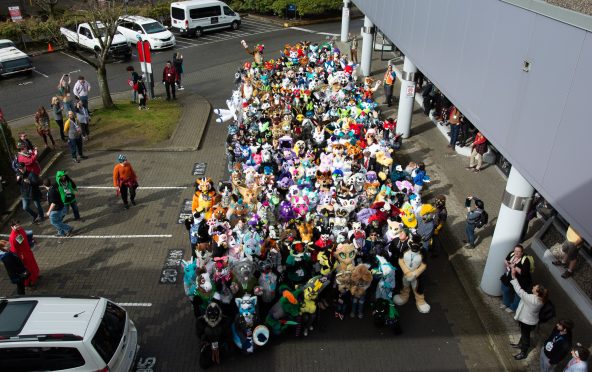 2020 has been a challenging year for everyone, and for the BCAEA and Vancoufur, this year was no exception. Sliding in just before Covid-19 shut down most of Canada, and North America, it was one of the last furry conventions to run before the widespread cancellation of cons that occurred due to the pandemic. 
Despite this, Vancoufur ran successfully for 2020, not a small feat. There were issues with shortages of staff due, and unexpected cancellations as the concerns around Covid grew at the time. There were also several technical and logistical issues that come with moving to a new hotel. However, the spectacular and hardworking volunteer team we had this year handled each challenge with remarkable dexterity and still managed to pull off an amazing event that was very well received by the community. Extra precautions were put in place for the convention which had included extra sanitizing of sensitive areas by the hotel and hand sanitizer stations all over the hotel.
Many attendees were particularly delighted with this year's theme idea and the decor team really stepped up and knocked it out of the park to bring Neon City to life. Vancoufur 2020 had many great events this year with some big winners:
Fursuit Dance 2020 Competition Winners:
1st: Fikko Frutopia 2nd: Rennzu 3rd: Tosh
2020 Dance Comp Audience Favorite: Renzo
Floor wars 2020 Winner: OttertheFox
Cutie Pageant 2020 Winner: Renzo
Vancoufur saw growth again this year with 1, 211 attendees for 2020, up from 2019. We also had over 231 suits in our parade this year.

VF's charity fundraising efforts raised 8,230.35 for the SPCA WildARC for 2020, which was a huge boon to WildARC as the pandemic severely impacted their fundraising abilities. Everyone who donated can feel good that they have helped WildARC keep their doors open to continue rescuing and rehabilitating local wildlife through the summer and beyond. 
The BCAEA and Vancoufur Team are extremely pleased that we were able to bring this event to the community for 2020, and we know it will certainly hold a special place in our hearts as we look forward to when it will be safe to put on another physical convention for our community. We want to thank the Chair of 2020, ShadowsMyst, and her vice-chair, Zanwolf for their hard work on this past event, as well as thank all the fantastic talent and volunteers of those who helped make this a great experience for our attendees. 
For now, everyone keep taking care of yourselves and we are excited to see you all when we can have another in-person convention in the future safely!