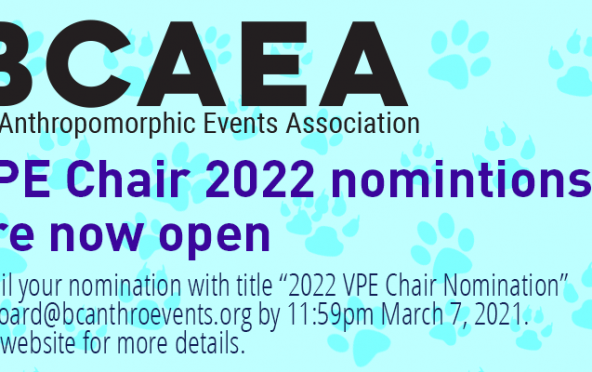 Vanhoover Pony Expo 2022 Chair Selection
The BCAEA Board of Directors this year is calling for nominations for the Chair of Vanhoover Pony Expo 2022. We are looking for nominations from the community, but you can also nominate yourself. Please see the information below before submitting your nomination.
What does the chair do?
The chair is the vision and driving force of the VPE team. They are responsible for ensuring that the convention runs smoothly and successfully within the overall budget allotted by the board and reports to the BCAEA Board of Directors. It is a position with a tremendous amount of responsibility and requires a lot of time, dedication, and diplomacy.
As Chair of the convention you would be responsible for the hiring, organization, delegation, final decisions, and oversight of all departments to ensure the continued smooth running operation of VPE for the 2022 convention cycle. This position calls for a range of skills and abilities. Ideally, a good candidate would be someone who can bring great organizational skills to the table, along with great ideas to expand and improve the convention. Some business knowledge such as management, budgeting and similar is highly beneficial.
The BCAEA is looking for candiates that will continue to build on, improve, and innovate to make VPE the best event it can possibly be.
What are the qualities of a strong chair candidate?
Passion. We are looking for individuals who are highly motivated to make a major difference in the local MLP community and believe they have the skill set to do so.
Organization. Organizing is the cornerstone to the success of any team. We're looking for a leader who can plan, set and meet reasonable deadlines, delegate appropriately, provide structure, manage time lines, and coordinate a team.
Communication. Communicating with many people is an essential part of this role. You will have a staff of many volunteers working under your supervision. You need to know how to effectively communicate with many types of people, manage interpersonal conflicts while still being collaborative.
Reliable. The chair must be someone that the VPE team can rely and depend on. They must be visible, providing guidance and available to answer questions, field issues, and deal with problems in a timely manner throughout the year. A good candidate will have a history of dependability and composure under stress.
Experience. We are looking for someone who knows our event from an organizational standpoint and has ideas and experience that will contribute to improving the event and continuing to foster success in the upcoming year.
Ready to Nominate? Here's how:
Nominations are open from Feb 14, 2021 to March 7, 2021. To nominate someone, send an email the Board of Directors of the BC Anthropomorphic Events Association at board@bcanthroevents.org with the information below. You can nominate yourself.
Your email should include the following:
1) The name of the Candidate
2) Contact email for the candidate
2) Tell us why you nominated this person (or put yourself forward) to be the Chair of Vanhoover Pony Expo 2022?
3) What unique quality do you feel that your nominee (or yourself) brings to the chair role for Vanhoover Pony Expo 2022?
4) What skills or resources do you feel this person would bring to the table to enhance VPE for the future?
All nominees will be contacted to accept their nomination. Nominated candidates must accept their nomination within three days of being contacted to be considered in the selection. Nominees that do not accept (including self nominations), will not be considered. After this point only the successful candidate will be contacted.
The BCAEA Board of Directors wishes to thank you for taking the time to nominate a Chair candidate.
Sincerely,
BCAEA Board of Directors